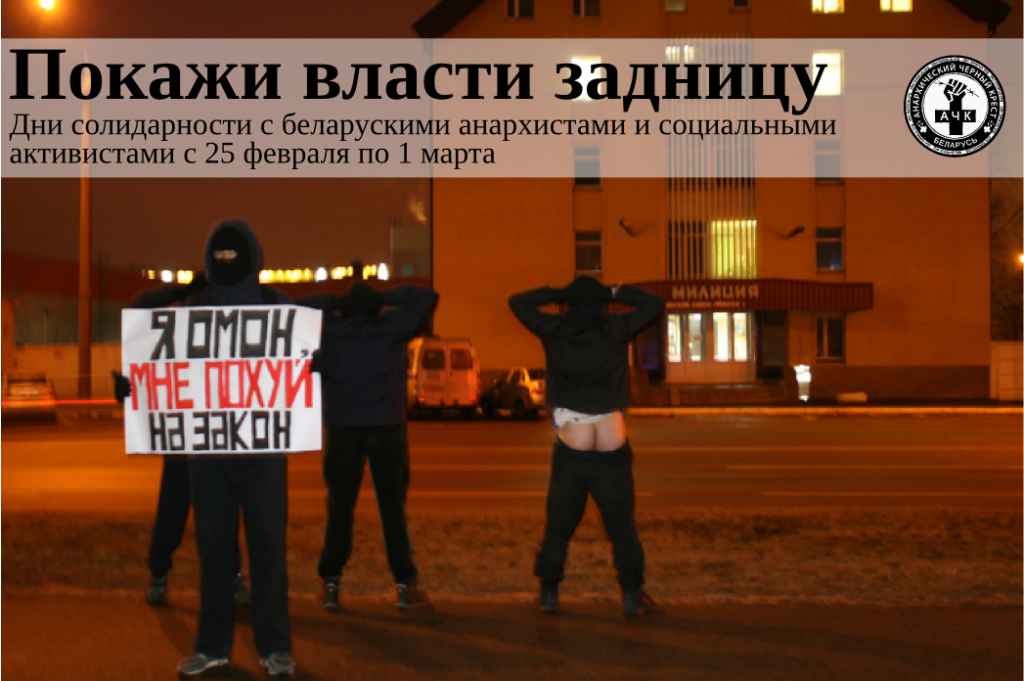 See SPANISH below
The forth presidential term of Alexander Lukashenko will expire in 2015. In 21 years Lukashenko has managed to suppress almost all social struggles in the country, kill several political opponents in the 90s, and eradicate nearly all of the official opposition. Lukashenko didn't allow Belarusian society to transcend the limits of Soviet mentality. Any complaint or criticism of the government are met with repression from the police or the KGB. Any attempts of organizing face with prosecution and hysteria from the state. The policy of the government can be described simply as follows: "Everything that cannot be controlled must be destroyed". At this moment Belarusian state is slowly but steadily getting to the extermination of any dissent or independent thinking.
With the elections planned for November this year the pressure on social movements is increasing. Authorities are afraid of the Ukrainian scenario occurring in Belarus and do everything to fight "extremists": all the people who are calling for the change of the current regime.
Over the last two months 10 people connected with the anarchist movement have been arrested. Eight of them got from 10 to 25 days of arrest based on made-up cases of resistance to the police and minor hooliganism. Two of them were already arrested before in December and spend 5 and 10 days in prison and later were fired from work. This time they were arrested a couple of days after they had found a new job. Activists connect repressions with several solidarity actions against police brutality at a New Year punk concert. Police raided the concert, made a list of all the participants and filmed them. Two people were arrested at the concert for distribution of "extremist" materials. After that all the people listed at the concert started receiving visits from the police who brought official notices demanding people to stop their "extremist" activity. There are also frequent threats in social networks coming from people obviously connected with the police.
In November 2014 the prison authorities started another criminal case against Mikalai Dziadok, who is serving a four-and-a-half-year sentence in prison after repressions of 2010. This time he is accused of severe violations of prison rules. During the four years in prison Mikalai was many times in solitary confinement as the authorities were trying to pressure him and break his spirit. Now Mikalai, who was to be released in March this year, is facing charges that can keep him in prison for one more year. Relatives and friends have no doubts about the court ruling as the same tactic had been used against one of the conservative opposition activists. Thus the government will be able to keep Mikalai in prison during the upcoming elections.
Moreover, anarchist Ihar Alinevich, who is serving an 8-year prison sentence for a solidarity action with Russian antifascists, was once again thrown into a punishment cell – the fifth time in the last 4 months.
During the electoral campaign in 2010 dozens of anarchists and later also opposition activists went through detentions and arrests. Over 50 people ended up in prison for political charged including five anarchists. Three of them are still incarcerated. No doubts that the government is getting ready and will try to silence any dissent by all the means. These days most of us expect only a higher level of repression.
Therefore we appeal to everybody who is reading this to take to the streets in the period from February 25 to March 1 and make solidarity actions with anarchists and social activists of Belarus in their struggle for a just world and against the dictatorship. It is up to you to decide the form of the actions, but we can only point out that the two solidarity actions in Minsk, where people exposed their bottoms, caused vivid interest in society and high fever among the police. That's why we think that it's time to show your ass to the authorities and take possession of your life.
For a free society
Against dictatorship and oppression
Anarchist Black Cross Belarus
IN SPANISH:
El cuarto mandato presidencial de Alexander Lukashenko expirará en 2015. En 21 años Lukashenko ha conseguido suprimir casi todas las luchas sociales en el país, matar a varios opositores políticos en los 90, y erradicar casi toda la oposición oficial. Lukashenko no a permitido a la sociedad bielorrusa sobrepasar los límites de la mentalidad soviética. Cualquier queja o crítica al gobierno es respondida con represión por la policía o la KGB. Cualquier intento de organización se enfrenta a persecución e histeria por parte de del Estado. La política del gobierno se puede describir simplemente como sigue: "Todo lo que no se puede controlar debe ser destruido". En este momento el Estado Bielorruso va lenta pero inexorablemente exterminando cualquier desobediencia o pensamiento crítico.
Con las elecciones planeadas para Noviembre este año la presión sobre los movimientos sociales esta creciendo. Las autoridades temen que un escenario como el ukraniano ocurra en Bielorrusia y hacen todo lo que pueden para luchar contra el "extremismo": toda la gente que llama a un cambio del régimen actual.
En los últimos dos meses 10 personas conectadas con el movimiento anarquista han sido arrestadas. Ocho de ellos se llevaron de 10 a 25 días de arresto basado en cargos inventados de resistencia a la policía y "hooliganismo" leve. Dos de ellxs fueron arrestadxs antes en diciembre y pasaron de 5 a 10 días en prisión y más tarde les despidieron de su trabajo. Esta vez fueron arrestadxs un par de días después de que encontraran un nuevo trabajo. Activistas creen en la relación de los arrestos con las acciones solidarias contra la brutaliadad policial en un concierto punk de Año Nuevo. La policía asaltó el concierto, hizo una lista de todxs lxs asistentes y lxs grabó. Dos fueron arrestadxs en el concierto por distribución de materiales "extremistas". Después de eso toda la gente en la lista comenzó a recibir visitas de la policía que presentó notificaciones oficiales demandando a la gente a parar su actividad "extremista". Hay también amenzadas frecuentes en redes sociales por parte de gente obviamente asociada a la policía.
En Noviembre de 2014 las autoridades de la prisión abrieron otra causa criminal contra Mikalai Dziadok, que esta cumpliendo 4 años y medio de condena tras la ola de represión del 2010. Esta vez le acusan de violación severa de las normas de prisión. Durante los cuatro años de prisión Mikalai ha estado muchas veces en la celda de aislamiento porque las autoridades han intentado de esta manera presionarle para quebrantar su voluntad. Ahora, Mikalai, que iba a ser puesto en libertad en marzo de este año, se enfrenta a cargos que lo podrían mantener en prisión un año más. Familiares y amigxs no tienen dudas de que el juicio es la misma táctica usada contra uno de los activistas conservadores de la oposición. Por tanto el gobierno podrá mantener a Mikalai en prisión durante las próximas elecciones.
Más aún, el anarquista Ihar Alinevich, que cumple 8 años de condena por una acción en solidaridad con antifascistas rusos has sido enviado a la celda de castigo una vez más – la quinta vez en los últimos 4 meses.
Durante la campaña electoral en 2010 decenas de anarquistas y más tarde activistas de la oposición, sufrieron detenciones y arrestos. Más de 50 personas terminaron en prisión por causas políticas incluyendo a 5 anarquistas. Tres de ellos están aún en prisión. No queda duda que el gobierno se está preparando e intentará silenciar cualquier disidencia por cualquier medio. Estos días, la mayoría de nosotrxs está a la espera de más represión.
Por eso, pedimos a todxs lxs que leeís esto a tomar las calles en el periodo del 25 de febrero al 1 de marzo y organizar acciones solidarias con anarquistas y activistas sociales de Bielorrusia en su lucha por un mundo justo y contra la dictadura. Es vuestra decisión que tipo de acciones, pero nos cabe mencionar dos acciones solidarias en Minsk, dónde la gente enseñó su culo, causando interés genuino en la sociedad y mucho cabreo en la policía. Por eso creemos que es tiempo de enseñar el culo a las autoridades y tomar el control de nuestra vida.
/Por una sociedad libre/
/Contra la dictadura y la opersión/
/Cruz Negra Anarquista Bielorrusa/