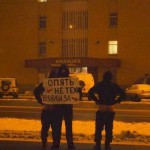 Five action in a row have been organised on January 29 in support of anarchists, arrested in Minsk for alleged resistance to the police about a week ago. In fact all of them were detained on suspicion of participation in solidarity actions with other activists, who had been arrested at a punk concert and accused of distribution of extremist literature.
According to the activists, by these action they wanted to show that the 4 arrested people are not the ones who had organised the actions on January 16. The police and the judicial system don't aim at detecting or preventing crimes, the strive to suppress any demonstration of nonconformity.
One of the groups visited the judge who decided on the anarchists' cases and put leaflets around the house reading that he is wanted for unfair sentences and accusing a person known to be innocent. It's common knowledge that judges in Belarus act in accordance with demands of the police.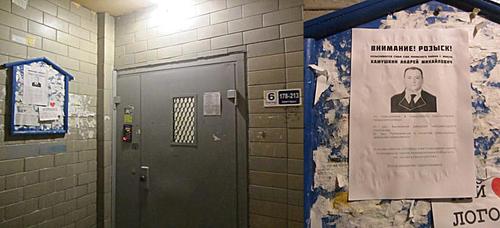 Another group made another picture at the police station with bare butts and a poster saying that the police again took wrong people. It was exactly the butt from the previous picture that is known to have infuriated the police last time.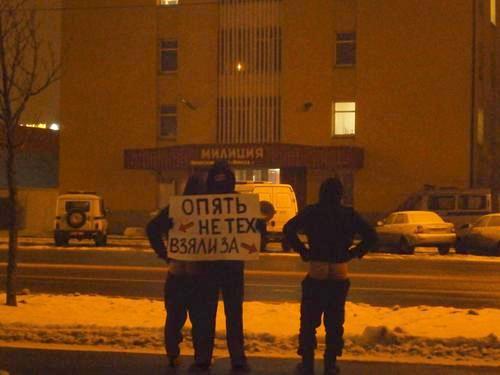 Some posters were also billed around the city mimicking the design of a well-known social ad popularising the Belarusian language. Usually they depict someone naming a word in Belarusian and saying: "My first word in my mother tongue is Success". Anarchists redesigned them and put the words 'interrogation', 'handcuffs', 'arrest', 'police car' instead. "Our first word is Freedom!", the activists declare.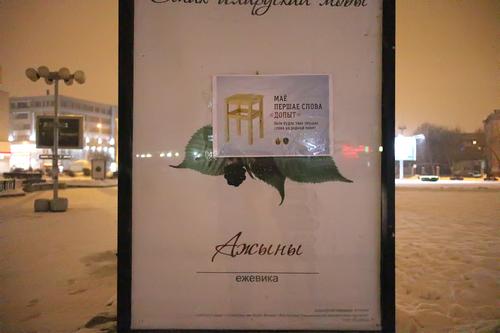 Another group hanged a banner on the bridge in the city centre saying "The destiny of the police is to create lawlessness".
Some anarcho-nationalists also decided to express solidarity and hanged a banner "Freedom to political prisoners".*
It turns out that the police visits the arrestees almost every day, trying to bluff them with starting criminal cases for the actions that happened on January 16. That day several autonomous anarchist groups organised protest actions in three places simultaneously: at the Court where their comrades had been tried, at the Prison where they had been kept and at the Police station which had been in charge of the raid. There they made a picture with hands behind their heads to show their protest against the police raid at the New Year Punk Gig and the following detention of three people that were doing distro tables during the concert.
*ABC-Belarus doesn't support this group. Read more about our attitude and policy of informing about solidarity actions here