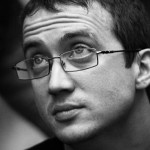 An activist with the Other Russia opposition movement has committed suicide in the Netherlands — apparently after he was designated for deportation to Russia.
Alexander Dolmatov killed himself last night in a Rotterdam refugee center, his friend Denis Solopov told The Moscow Times Thursday. He added that he had not been able to get in contact with Dolmatov for some days and that it was unclear why he should have been deported.
Dolmatov had fled to the Netherlands last year after being implicated in the case of the violent anti-government protest on May 6. He filed an asylum request to Dutch authorities in June.
Solopov said that he had not heard of a decision regarding Dolmatov's requests. "If there had been one, positive or negative, he would have told me," he said. He speculated that Dutch authorities had gotten an extradition request from Russian police.
Domatov told The Moscow Times in an interview in July that he feared disproportionate punishment because he worked at a rocket production factory in Korolyov, outside Moscow.