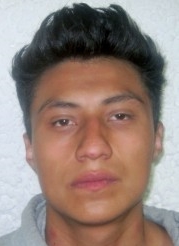 A few days fulfilled a year ot his arrest after a march against the rising of the price of metro ticket , where the Christmas tree owned by the Coca -Cola multinational was burned , today was dictated sentence to comrade Fernando Barcenas Castillo of 5 years 9 months for the crime of attacks on public peace , so misses bail.
At a time when the Mexican government is intensifying its repressive methods , certainly the sentence to Fernando is looking send a message to inhibit the growing signs of discontent. That is why it is important to continue fighting for the freedom of our imprisoned comrades , do not let them into oblivion.
Continue demonstrating that solidarity is more than written word.
Freedom to Fernando Barcenas !
Solidarity with Carlos , Amelie and Fallon !
Freedom to Abraham and Luis Fernando !
Down the prison walls !
Anarchist Black Cross Mexico