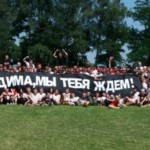 Despite the fact that court dismissed the appeal, Dzmitry Zvan'ko did not lose the hope and now looks forward to the expected amnesty in honor of 70 years of Victory in the Great Patriotic War or parole. But in both cases he should to pay the full amount awarded by the court. A symbolic actions in support of Dzmitry have taken place in several cities of Belarus and Russia as well as the collection of money for compensation. And according to acquaintances Dmitry the amount finally been successfully collected. In the colony Dmitry does not lose time in vain, including engaged in reading, and asked to send some books about anarchism.
Mikalai Dziadok had his toe nail removed for the third time since he is in prison. He is suffering for ingrowing nails. He continues his learning of foreign languages – English and Arabic. Since he has his birthday in August, ABC-Belarus made a call to send him a video-congratulation.
Ihar Alinevich has been transfered to another penal colony, because the old one is to be closed. His new address: 211300, Vitebskaya obl., Vitebsky r-n, p. Vitba, IK-3
Artsiom Prakapenka parents visited her son in prison. Meeting continued one day. Political prisoner has the status of heavy breaker of law, because of this he has no right for a longer visit. Last time Artsiom Prakapenka parents met him for a long visit a year ago. They say that during this time their son became thinner. He had problems with his teeth because of lack of normal food: there are no fruits and vegetables in prison, which are a source of vitamins. In addition, the political prisoner has joints ache. Because of this, he stopped sport trainings. There is no work in prison, so Artsiom reads books.
Jauhen Vas'kovich didn't receive letters, newspapers and post packages with literature, says activists who corresponds with him, as well as parents. For example, post package with books returned to mother of political prisoner. Books sent back from prison marked «not supposed to».
Dzmitry Rezanovich was deported back home on July 25th. He is in good spirits and stays with his family. His fine has been paid.