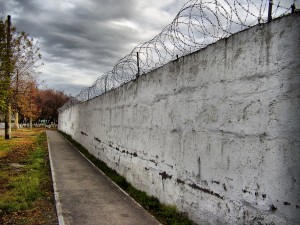 Ihar Alinevich's diary was published in English, French, Spanish and Czech this April. If you want to get a printed copy of the book, please contact us.
Mikalai Dziadok is serving his last year in prison; his sentence ends on March 3, 2015. Due to his relatives' complainst, he has received a better diet which is supposed to cure his stomack illness. As part of the EU program of support of Belarusian political prisoners Mikalai now has a patron for Lithuanian parliament who is supposed to take personal interest in what happens with the prisoner, write him, support his relatives and spread a 'democratic' word about the situation.
Mogilev prison administration presses on Eugene Vaskovich by other prisoners. This way jailers want to force him to write a petition for pardon, his colleagues say, linking sources in the prison.
In addition, there were known the conditions of detention in jail concerning political prisoner. Eugene Vaskovich is living in a chamber with 10 seats with total area of 33.89 square meters. He provided three meals per day, weekly sanitization and change of bed linen. During his stay in prison political prisoner turned once a medical care, in December 2013. From January to March 2014, he read 18 books taken from the prison library.
For 27 months in prison Eugene Vaskovich was 27 times put in punishment cell for various periods. In the last three months he was not put there. Punishment cell is located in the basement, it is not equipped with daylight windows.
Administration of Mogilev colony allowed a long-term meeting for Artem Prokopenko , says his father Anatoly Prokopenko.
"In June we will have a long-term meeting. Exact dates will be known in early summer. We usually talk with Artem by the phone, he calls about once every two weeks", — he says.
Father of political prisoner adds that her son had a cold, but now health is ok.
"Before, he usually went to work, but at the moment it is not enough work. Therefore, if there is no work, he plays sports and reads books", — says Anatoly Prokopenko.