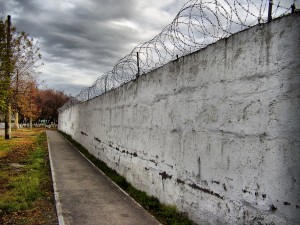 This month there was a few hearings on the case of Brest antifascist Dzmitry Zvanko, but the trial is closed because the complainant claimed he had been threatened on the Internet.
Another antifascist from Brest – Dzmitry Stsyashenka – is accused on another episode, the first hearing was planned on January 24, but it was postponed.
Mikalai Dziadok wrote, that he had received many New Years cards and is grateful to all who supports him. He is very interested in what is happening in the Ukraine and in Rote Flora squat. Recently he has received a small food parcel. Parents also sent him warm closes as his cell is situated on the northern part of the prison and he has to alwas wear cloths, even in the night.
Artsiom Prakapenka is kept in the information blockade in penal colony. He has not called or wrote home for a very long time. "There is absolutely no news from Artyom. He did not call us for a long time – the last time he did it was two weeks ago. He doesn't write letters at all", says  his father. Anatoly Prokopenko says that the position of Artyom about petition for pardon remained unchanged. He strongly refuses to sign it. "Artsiom has got no new breakdowns. When will we have next meeting is unknown, maybe in a month or two", adds the father of political  prisoner.
Jauhen Vaskovich's relatives visited him in prison. The last time they saw him was one year ago because he is allowed only one short date  per year. The mother of the political prisoner Rushaniya Vaskovich says, meeting continued two hours. Conversation took place through the glass  using the handset. "The son does not look very healthy, as in prison there is almost no fruit and he is allowed one-hour walk per day," says Rushaniya Vaskovich. In addition, during his conviction Jauhen Vaskovich was kept in a punishment cell on cover-up reasons for 247 days in general. It can be assumed that this has also reflected on his health. Political prisoner still refuses to write a petition for pardon.
Ihar Alinevich had a short date with his parents in the end of January. His mother said that after his book had been published people are now watching Ihar all the time while he is writing something. Last month the book was claimed the best work written in prison.