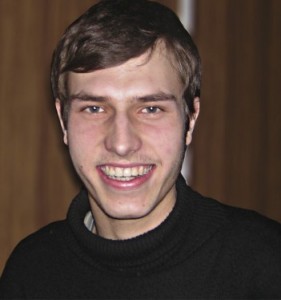 Detained on January 17, 2011 on suspicion of the attack on the KGB headquarters in Bobruisk launched on October 14, 2010 in solidarity with the anarchists arrested in September 2010.
Jauhen was a member of a Belarusian Christian Democracy party and a local [Bobruisk] cell of the Youth Front [nationalist orthodox organisation], he also wrote for the newspaper "Bobruiski courier".
Earlier was detained after the demonstration at the House of Government on December 19, 2010 and spent 12 days in a detention facility. In his interview after the administrative arrest he stated: "I don't see any peculiar changes in society since I was set free. As for me, I can tell that I grow angrier about the regime, these fascists. I think one should act the way they act against us. We have to trust and count only on ourselves…"
On January 11, 2011 he was interrogated by KGB and admitted that he was going to participate in non-violent action hereinafter.
On the day before arrest Jauhen took part in the solidarity action with the political prisoners in Mogilev.
In 2010 he ran as a candidate to Bobruisk municipality from Belarusian Christian Democracy. Was a correspondence student in Mogilev State University.
On May 18, 2011 was found guilty of intentional destruction of property and sentenced to 7 years of colony with reinforced regime.
For more information on the case and the trial chronicle see tag "attack on Bobruisk KGB".
Pardoned by the president on August 25, 2015.
* The names are given both in Russian and Belarusian, but we recommend to use the first one (Russian), as the prison register is conducted in Russian.
**We are not sharing Jauhen's political ideas, as well as he doesn't want to be connected to anarchism in any way. We are not supporting him, except for spreading information about him as one of the people who made a solidarity action with anarchists. Read more on our position here.