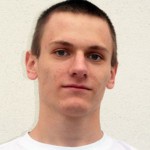 On 23 August Mikalai Dziadok will become 27. Once again he will have to celebrate his birthday in prison. Relatives and friends of the anarchist were hoping to have him outside of the prison that day, because he was supposed to be released march this year. However out of fear for political protests and loosing power state have decided to keep Dziadok one more year in Prison.
You can send him your warm words at:
213410, Gorki, ul. Dobrolubova, 16, IK-9, PKT
BELARUS
Dedok Nikolai Aleksandrovich / Dziadok Mikalai Aliaksandravich*
You can also send him a letter through our online form – https://abc-belarus.org/?page_id=579&lang=en
We call everyone to congratulate our friend on that day with actions of solidarity and letters.