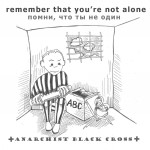 August 23 is not only the day of execution of Sacco and Vanzetti, but also the birthday of another imprisoned anarchist from Belarus Mikalai Dziadok. This is also the first day of the International Week of Solidarity with Anarchist Prisoners. This day he will turn 26 and this will be his 4th birthday behind the bars. We want to make him a video-postcard, where people form different countries and cities, in different languages congratulate him on this day. We call you to record a short video, alone or with friends, inside or outside, using words or showing slogans. For many of you this can be the only opportunity to express solidarity with Mikalai.
We accept the videos by August 1st at belarus_abc@riseup.net, then we'll make a compilation of them all and put it on our website. Mind that it's going to appear online, so take precautions if you want to hide your identity. Mikalai won't be able to see this vidoe in prison, but we believe he will be astonished by it when he gets out of prison on next March.
Mikalai Dziadok is a Belarusian anarchist. On May 27, 2011 was found guilty of the attack on the casino "Shangri La", the attack on the Trade Union Federation building and the participation in the anti-militarist manifestation near the General Staff and sentenced to 4.5 years of standard regime penal colony for group hooliganism. After 2 years of sentence transferred to a high-security prison.
Here is a sample video by comrades from Zaragoza, Spain
Сообщение опубликовано: 01.07.2014