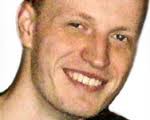 The most unbelievable things are possible.
Ihar Alinevich reads about GULAG camps in prison and uses all media available for him to watch the events in Ukraine, charter97.org learnt from Ihar's mother Valiantsina Alinevich.
– He is in a new correctional facility, Vitba. He was transferred to the general unit from a quarantine unit in July. He sent a couple of letters and a postcard. He doesn't write much focusing mostly on daily routine. Of course, the atmosphere and feelings are absolutely different in the new jail in comparison to the Navapolatsk correctional facility, which was situated close to oil refineries. They had emissions almost every day. Workers go home after their shift, but prisoners have to breathe in these poisons. This correctional facility was opened 50 years ago. It is good that it was closed.
– Do prisoners here differ? (more…)
Сообщение опубликовано: 20.08.2014